11 Feb

Embodying Mind: The Case of the Sigh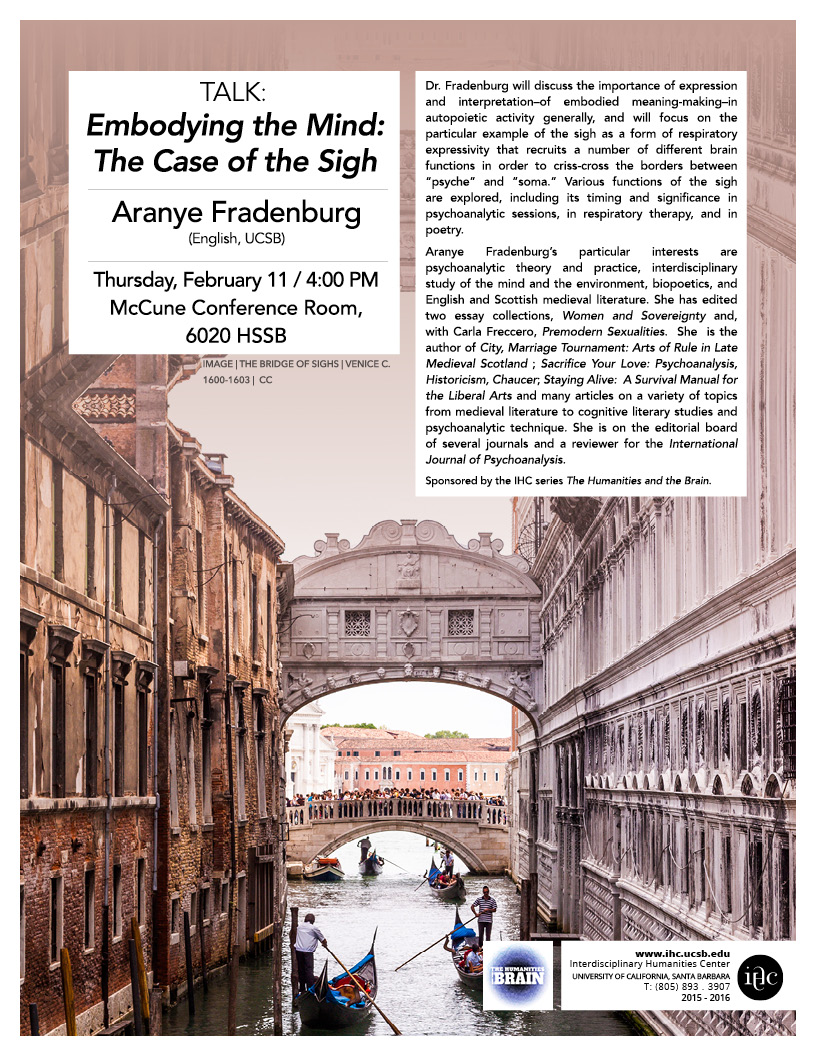 Aranye Fradenburg (English, UCSB)
Thursday, February 11, 2016 / 4:00 PM
McCune Conference Room, 6020 HSSB
Fradenburg will discuss the importance of expression and interpretation — of embodied meaning-making — in autopoietic activity generally, and will focus on the particular example of the sigh as a form of respiratory expressivity that recruits a number of different brain functions in order to criss-cross the borders between "psyche" and "soma." Various functions of the sigh are explored, including its timing and significance in psychoanalytic sessions, in respiratory therapy, and in poetry.
Aranye Fradenburg's particular interests are psychoanalytic theory and practice, interdisciplinary study of the mind and the environment, biopoetics, and English and Scottish medieval literature.  She is the author of City, Marriage, Tournament: Arts of Rule in Late Medieval Scotland; Sacrifice Your Love: Psychoanalysis, Historicism, Chaucer; Staying Alive:  A Survival Manual for the Liberal Arts and many articles on a variety of topics from medieval literature to cognitive literary studies and psychoanalytic technique.   She has edited two essay collections, Women and Sovereignty and, with Carla Freccero, Premodern Sexualities.


Click here to listen to a recording of Aranye Fradenburg's talk for the 2015-16 IHC series: The Humanities and the Brain.
Sponsored by the IHC series The Humanities and the Brain.