17 Nov

Public Universities and the Future of Democracy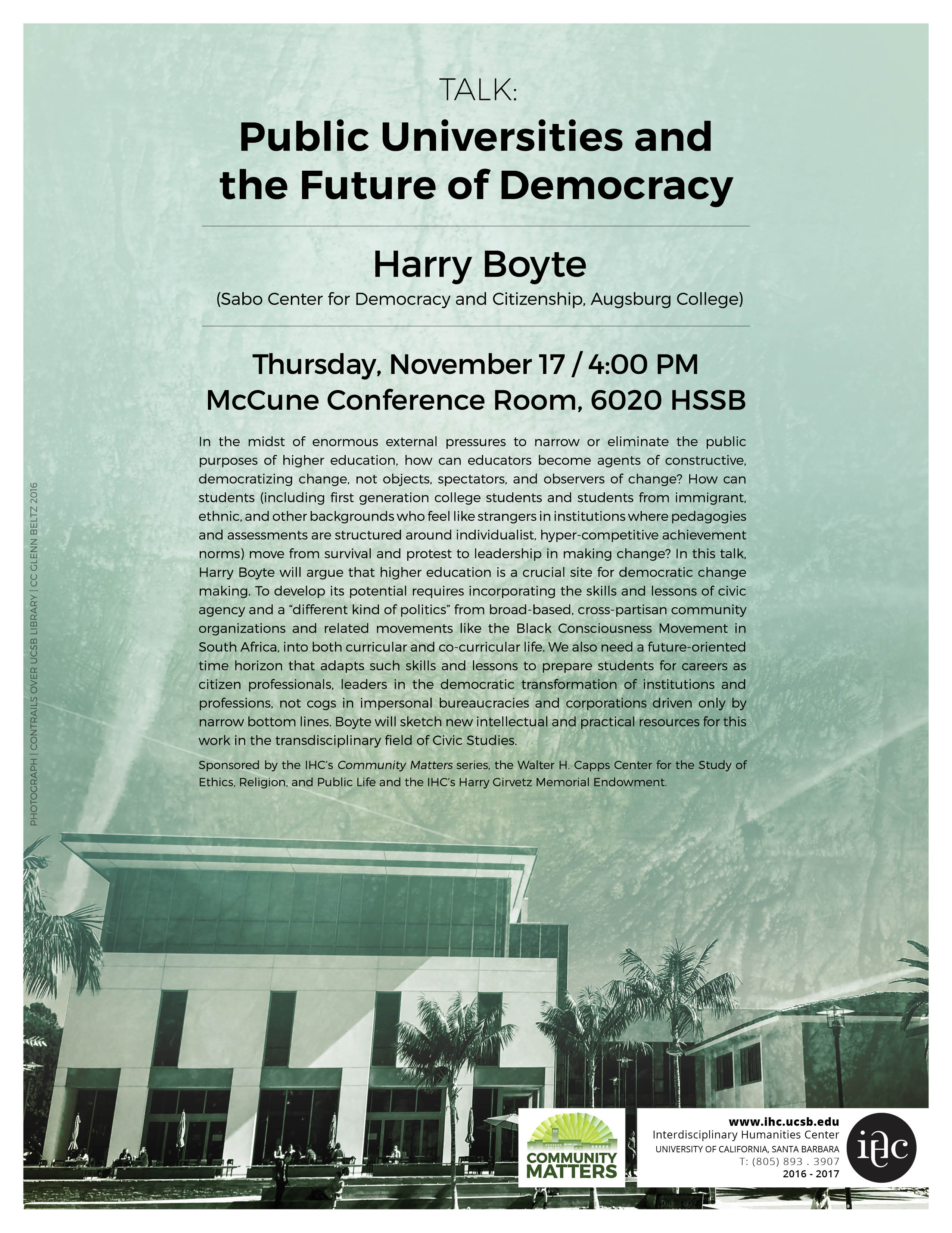 Harry Boyte (Sabo Center for Democracy and Citizenship, Augsburg College)
Thursday, November 17, 2016 / 4:00 PM
McCune Conference Room, 6020 HSSB
In the midst of enormous external pressures to narrow or eliminate the public purposes of higher education, how can educators become agents of constructive, democratizing change, not objects, spectators, and observers of change? How can students, including first generation college students and students from immigrant, ethnic, and other backgrounds who feel like strangers in institutions where pedagogies and assessments are structured around individualist, hyper-competitive achievement norms, move from survival and protest to leadership in making change? In this talk, Harry Boyte will argue that higher education is a crucial site for democratic change making. To develop its potential requires incorporating skills and lessons of civic agency and "a different kind of politics" from broad-based, cross-partisan community organizations and related movements like the Black Consciousness Movement in South Africa into both curricular and co-curricular life. We also need a future oriented time horizon, adapting such skills and lessons to prepare students for careers as citizen professionals, leaders in the democratic transformation of institutions and professions, not cogs in impersonal bureaucracies and corporations driven only by narrow bottom lines. Boyte will sketch new intellectual and practical resources for this work in the transdisciplinary field of Civic Studies. Civic Studies conceives of citizens as co-creators of a democratic way of life and it advances an epistemology of civic agency, a lived way of seeing and knowing in the world which blends "head," "heart," and "hand," empirical, cultural and normative disciplines with capacities for effective action. Civic Studies is becoming a prominent presence in Tisch College of Civic Life at Tufts University, Augsburg College in Minneapolis, and the University of Minnesota's College of Education and Human Development. It holds annual Civic Studies Institutes in Boston and the Ukraine, and constitutes a growing network of practitioners and public intellectuals associated with The Good Society: A Journal of Civic Studies.
Harry Boyte is an architect of the Center for Democracy and Citizenship's public work approach to civic engagement and democracy, and the creator of Public Achievement. Boyte has worked with a variety of foundations, and non-profit, educational, and citizen organizations in the United States and abroad concerned with community development, citizenship education, and civic renewal. Boyte served as a senior advisor to the National Commission on Civic Renewal and presented research findings at a Camp David seminar on the future of democracy. He is the author of nine books on citizenship, democracy, and community organizing, and his writings have appeared in more than 100 publications including the New York Times, Perspectives on Politics, Kettering Review, and the Wall Street Journal. In the 1960s, he worked for the Rev. Martin Luther King, Jr. as a field secretary with the Southern Christian Leadership Conference in the Civil Rights Movement. Boyte teaches graduate and undergraduate courses on organizing theory and practice at the University of Minnesota's Hubert H. Humphrey Institute of Public Affairs, and is in demand as a keynote speaker with faculty, students, and professionals.

Click here to listen to a recording of Harry Boyte's talk for the 2016-17 IHC series: Community Matters.
Sponsored by the IHC's Community Matters series, the Walter H. Capps Center for the Study of Ethics, Religion, and Public Life and the IHC's Harry Girvetz Memorial Endowment.