12 Feb

"An Open Game": DOOM, Game Engines, and the New Game Industry of the 1990s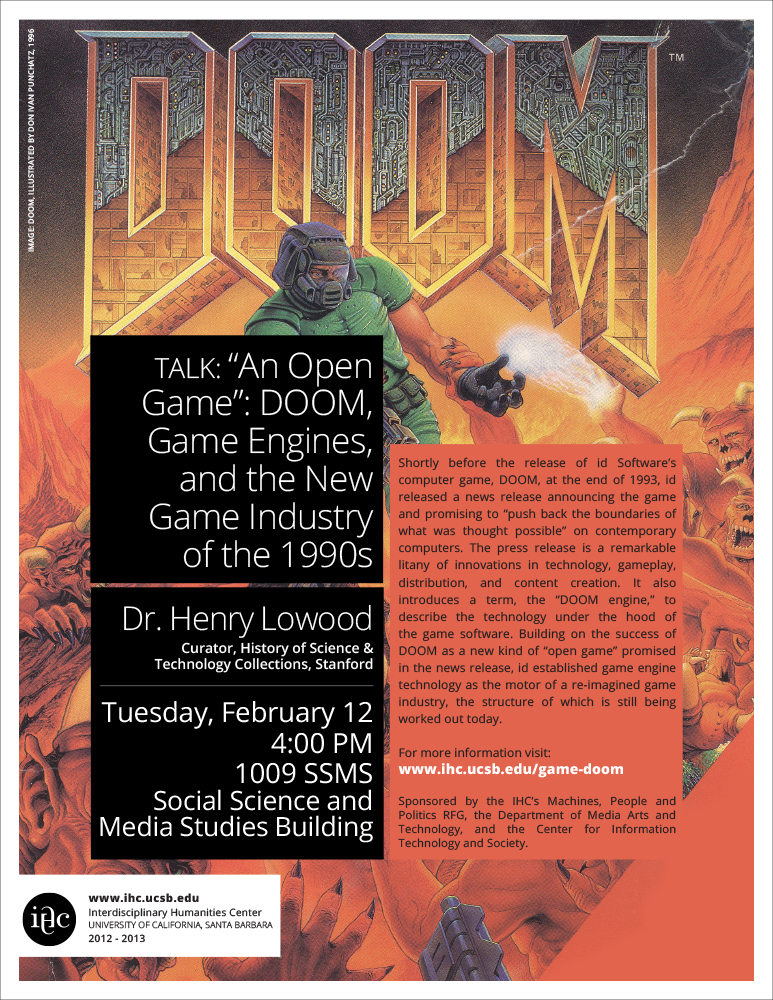 Dr. Henry Lowood (Curator, History of Science & Technology Collections, Stanford)
Tuesday, February 12 / 4:00 PM
1009 SSMS
Social Science and Media Studies Building
Shortly before the release of id Software's computer game, DOOM, at the end of 1993, id released a news release announcing the game and promising to "push back the boundaries of what was thought possible" on contemporary computers.  The press release is a remarkable litany of innovations in technology, gameplay, distribution, and content creation.   It also introduces a term, the "DOOM engine," to describe the technology under the hood of the game software.  Building on the success of DOOM as a new kind of "open game" promised in the news release, id established game engine technology as the motor of a re-imagined game industry, the structure of which is still being worked out today.
Henry Lowood received his B.S. in History (minor: Physics) from the University of California, Riverside.  He received Masters Degrees in Library and Information Science and History and a Ph.D. (History of Science & Technology) from the University of California, Berkeley.  At Stanford, he has served as head of the Physics Library, Curator for Germanic Collections, and Head of the Humanities Resource Group.  In addition, he has been Curator for History of Science & Technology Collections since 1983.  He is a lecturer in the Science, Technology and Society Program and the Introduction to the Humanities program at Stanford, and adjunct faculty at San Jose State University, in the School for Library and Information Science. Since 2000, he has been director of the How They Got Game Project in the Stanford Humanities Laboratory (SHL), a research project focused on the history of computer games and simulations; between 2004 and 2008 he was co-director of the SHL, as well. Among the many initiatives undertaken by the How They Got Game Project, he is curator of The Machinima Archive and the Archiving Virtual Worlds collection hosted by the Internet Archive and leads Stanford's work on the Preserving Virtual Worlds project, funded by the U.S. Library of Congress and the Institute of Museum and Library Services.  He has published widely in history of science and technology, library and archival studies, and digital game studies.
Sponsored by the IHC's Machines, People and Politics RFG, the Department of Media Arts and Technology, and the Center for Information Technology and Society.