17 Nov

Flying A Studio: Santa Barbara's First Brush with High Tech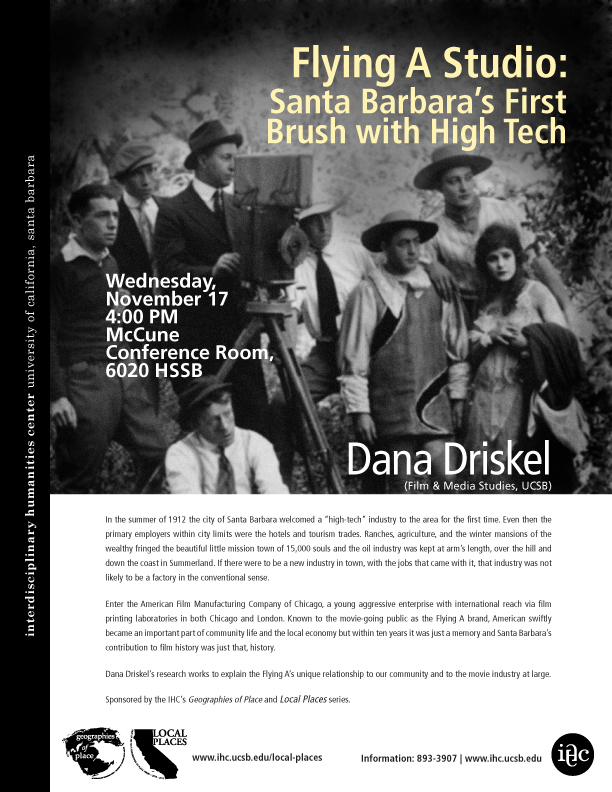 Dana Driskel (Film & Media Studies, UCSB)
Wednesday, November 17, 2010 / 4:00 PM
McCune Conference Room, 6020 HSSB
In the summer of 1912 the city of Santa Barbara welcomed a "high-tech" industry to the area for the first time. Even then the primary employers within city limits were the hotels and tourism trades, Ranches, agriculture, and the winter mansions of the wealthy fringed the beautiful little mission town of 15,000 souls and the oil industry was kept at arm's length, over the hill and down the coast in Summerland. If there were to be a new industry in town, with the jobs that came with it, that industry was not likely to be a factory in the conventional sense.
Enter the American Film Manufacturing Company of Chicago, a young aggressive enterprise with international reach via film printing laboratories in both Chicago and London. Known to the movie-going public as the Flying A brand, American swiftly became an important part of community life and the local economy but within ten years it was just a memory and Santa Barbara's contribution to film history was just that, history.
Dana Driskel's research works to explain the Flying A's unique relationship to our community and to the movie industry at large.
Sponsored by the IHC's Geographies of Place series.