08 May

Feminist Porn Mini Con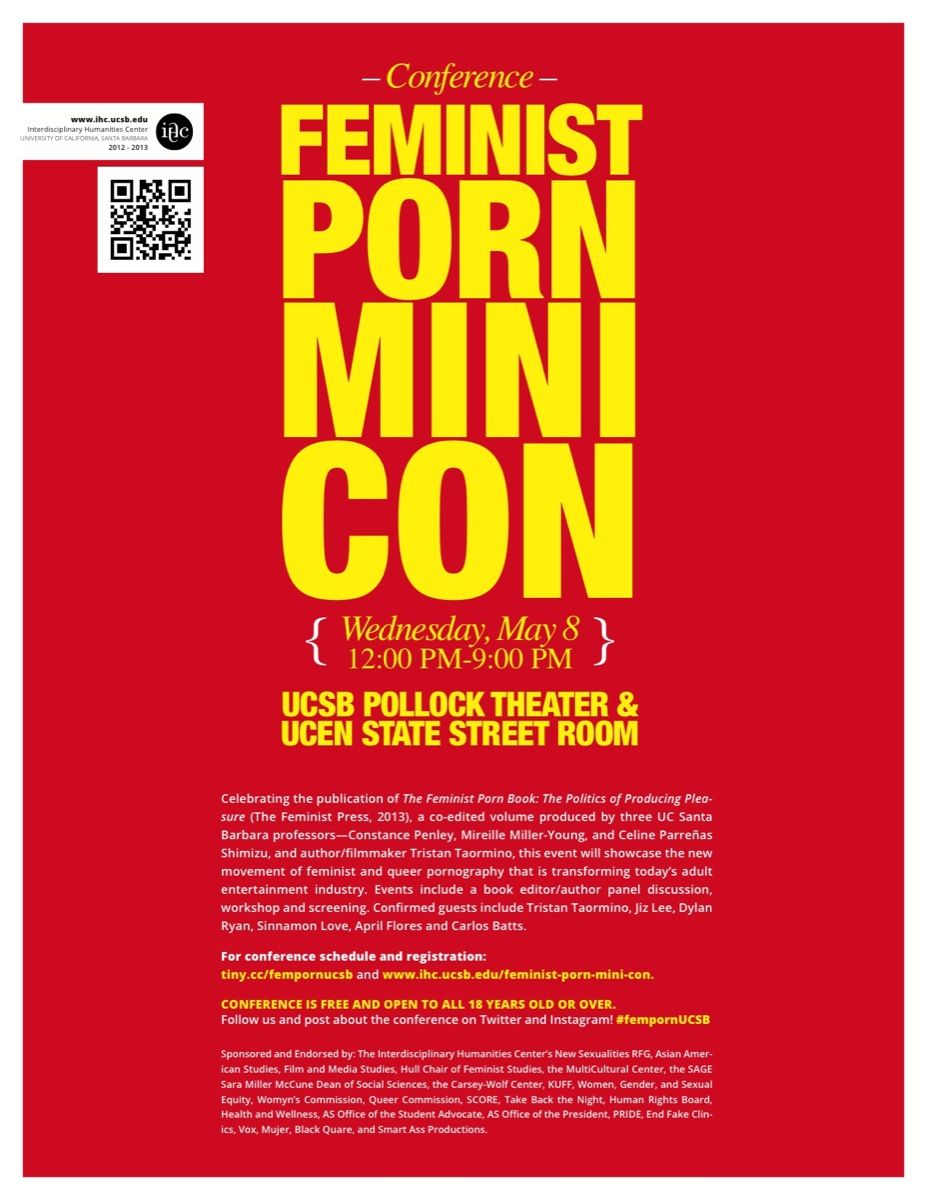 Wednesday, May 8 / 12:00 PM-9:00 PM
UCSB Pollock Theater and UCen State Street Room

Celebrating the publication of The Feminist Porn Book: The Politics of Producing Pleasure (The Feminist Press, 2013), a co-edited volume produced by three UC Santa Barbara professors—Constance Penley, Mireille Miller-Young, and Celine Parreñas Shimizu, and author/filmmaker Tristan Taormino, this event will showcase the new movement of feminist and queer pornography that is transforming today's adult entertainment industry. Events include a book editor/author panel discussion, workshop and screening. Confirmed guests include Tristan Taormino, Jiz Lee, Dylan Ryan, Sinnamon Love, April Flores and Carlos Batts.
For conference schedule and registration: http://tiny.cc/fempornucsb 
Conference is Free and open to all 18 years old or over.
Follow us and post about the conference on Twitter and Instagram! #fempornUCSB
Sponsored and Endorsed by:
The Interdisciplinary Humanities New Sexualities RFG, Asian American Studies, Film and Media Studies, Hull Chair of Feminist Studies, the Multicultural Center, the SAGE Sara Miller McCune Dean of Social Sciences, the Carsey-Wolf Center, KUFF, Women, Gender, and Sexual Equity, Womyn's Commission, Queer Commission, SCORE, Take Back the Night, Human Rights Board, Health and Wellness, AS Office of the Student Advocate, AS Office of the President, PRIDE, End Fake Clinics, Vox, Mujer, and Black Quare, and Smart Ass Productions.
Conference Schedule
12-2pm           The Feminist Porn Book Keynote Panel

Pollock Theater

What is feminist pornography? Why does it matter? The editors and authors of The Feminist Porn Book discuss the new movement of feminist pornography production. Speakers include Tristan Taormino, Jiz Lee, Dylan Ryan, Sinnamon Love, April Flores and Carlos Batts and UCSB professors Constance Penley, Celine Parreñas Shimizu, Mireille Miller-Young.
3-5pm             Sex Ed! Education and Activism Workshop

State Street Room, UCEN
Take part in an interactive dialogue facilitated by UCSB student orgs and sex industry professionals as they take on sex education and sexual activism. Topics to be discussed include visibility for sexual minorities, racial dynamics of the sex industry, sexual health and expression, sex work and performance, and sexual media production.
7-9pm             The Feminist Porn Show with Tristan Taormino

Pollock Theater
Join us for a special evening showcasing feminist porn, a genre of adult film and a growing movement. Tristan Taormino will share a brief history and definition of feminist porn, then screen a special compilation curated by her, which includes clips from the work of feminist porn pioneers and newcomers including Candida Royalle, Annie Sprinkle, Nina Hartley, Petra Joy, Erika Lust, Shine Louise Houston, Madison Young, Courtney Trouble, and more. The screening will be followed by a facilitated discussion, where we'll explore some of the current issues surrounding feminist porn.