26 May

Eden Falls, A LAUNCH PAD reading of a new play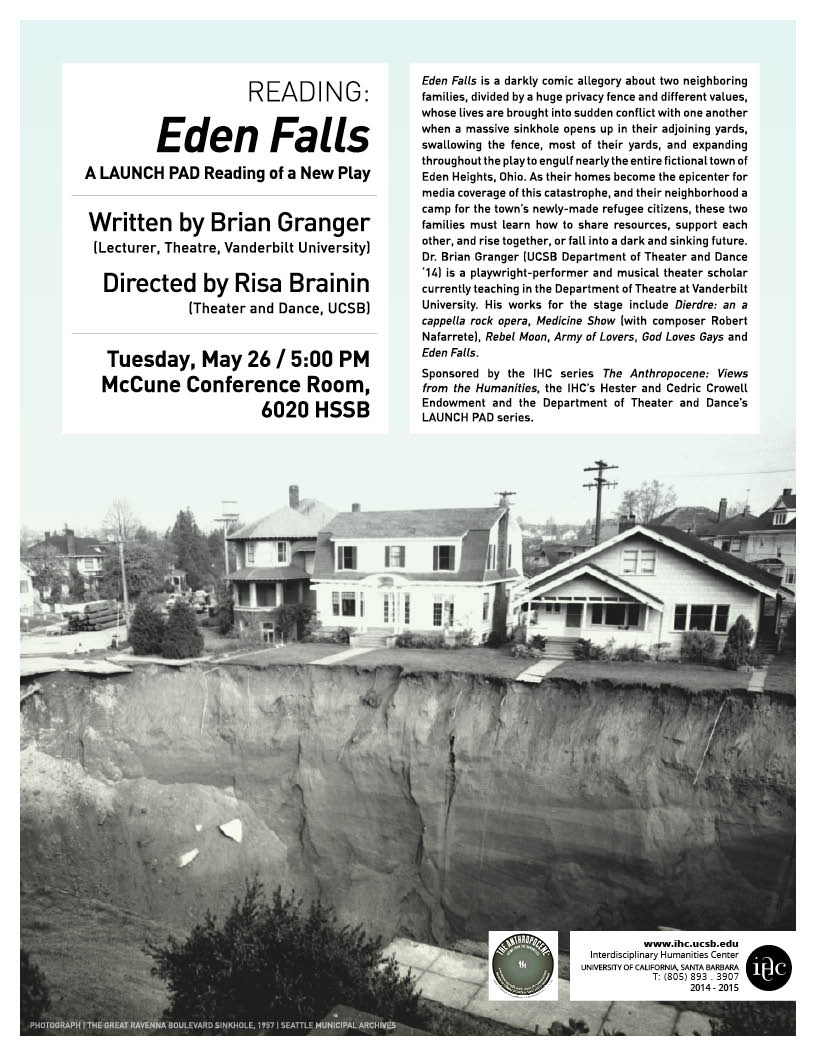 Written by Brian Granger (Lecturer, Theatre, Vanderbilt University)
Directed by Risa Brainin (Theater and Dance, UCSB)
Tuesday, May 26 / 5:00 PM
McCune Conference Room, 6020 HSSB
Eden Falls is a darkly comic allegory about two neighboring families, divided by a huge privacy fence and different values, whose lives are brought into sudden conflict with one another when a massive sinkhole opens up in their adjoining yards, swallowing the fence, most of their yards, and expanding throughout the play to engulf nearly the entire fictional town of Eden Heights, Ohio. As their homes become the epicenter for media coverage of this catastrophe, and their neighborhood a  camp for the town's newly-made refugee citizens, these two families must learn how to share resources, support each other, and rise together, or fall into a dark and sinking future.
CAST:
Andrew Carp: BRIAN HARWELL
Amanda Carp: ANNIE TORSIGLIERI
Rebecca Carp: MADDI SCARBOROUGH
Ishmael Harris: BRIAN GRANGER
Treneisha Martinez-Harris: STEPHANIE BATISTE
Takoda Harris: CHARLES GRANT
Bob Brockley, CEO: JEFF MILLS
Billingsworth: ROBERTO TOLENTINO
Monica Hardy, Reporter (and other roles): KELLI COLEMAN
Various Townsfolk: DILLON FRANCIS
Dr. Brian Granger (UCSB Department of Theater and Dance '14) is a playwright-performer and musical theater scholar currently teaching in the Department of Theatre at Vanderbilt University. His research interests include North American playwriting and Africana musicals on Broadway. His ecological awareness has grown in recent years through past work as a "wilderness" trip leader for the Besant Hill School of Happy Valley in Ojai, California, and as a former member of the Santa Barbara Student Housing Co-Op. In his dramatic writing, he remains interested in how we treat one another across lines of race, gender, and class. His works for the stage include Dierdre: an a cappella rock opera; Medicine Show (with composer Robert Nafarrete), a musical satire of American racial stereotypes that premiered at Dixon Place in New York City as part of their Not For Broadway: Festival of New Musicals; Baby Wolf (with composer Christian Imboden), an urban re-telling of the epic of Beowulf; Rebel Moon, which was staged here at UCSB as part of the New Plays Festival; an in-progress trilogy of plays exploring the relationship in American/European culture between homosexuality and the Christian Church, of which two parts have been completed (Army of Lovers – part 1, and God Loves Gays – part 3); and most recently, Eden Falls. A scene from Rebel Moon appears in print in Duo: the Best Scenes for Two for the 21st Century (Applause Books, 2009).
Risa Brainin is a freelance director, Chair and Director of Performance of the Department of Theater and Dance at University of California, Santa Barbara. Through her program LAUNCH PAD at UCSB, she has developed and directed nine plays with the playwright in residence: Sarah Ruhl's Melancholy Play, John Walch's The Dinosaur Within, Barbara Lebow's Plumfield, Iraq and La Niñera: The Nursemaid, Sheri Wilner's Kingdom City, Biederman's Match (based on Max Frisch's Biederman and the Firebugs) by Beau Willimon, music by Michelle DiBucci, lyrics by Portia Kamons, Entangled by Lila Rose Kaplan, Untitled IV by Ruth Markofsky by Alison Tatlock, and Appoggiatura by James Still which was workshopped at the Perry Mansfield New Works Festival last June, featured in the Denver Center Theatre's Colorado New Play Summit in February and is premiering at DCT in January, 2015.
Sponsored by the IHC series The Anthropocene: Views from the Humanities, the IHC's Hester and Cedric Crowell Endowment and the Department of Theater and Dance's LAUNCH PAD series.