15 Oct

Ecstasy: Linking the Humanities and the Brain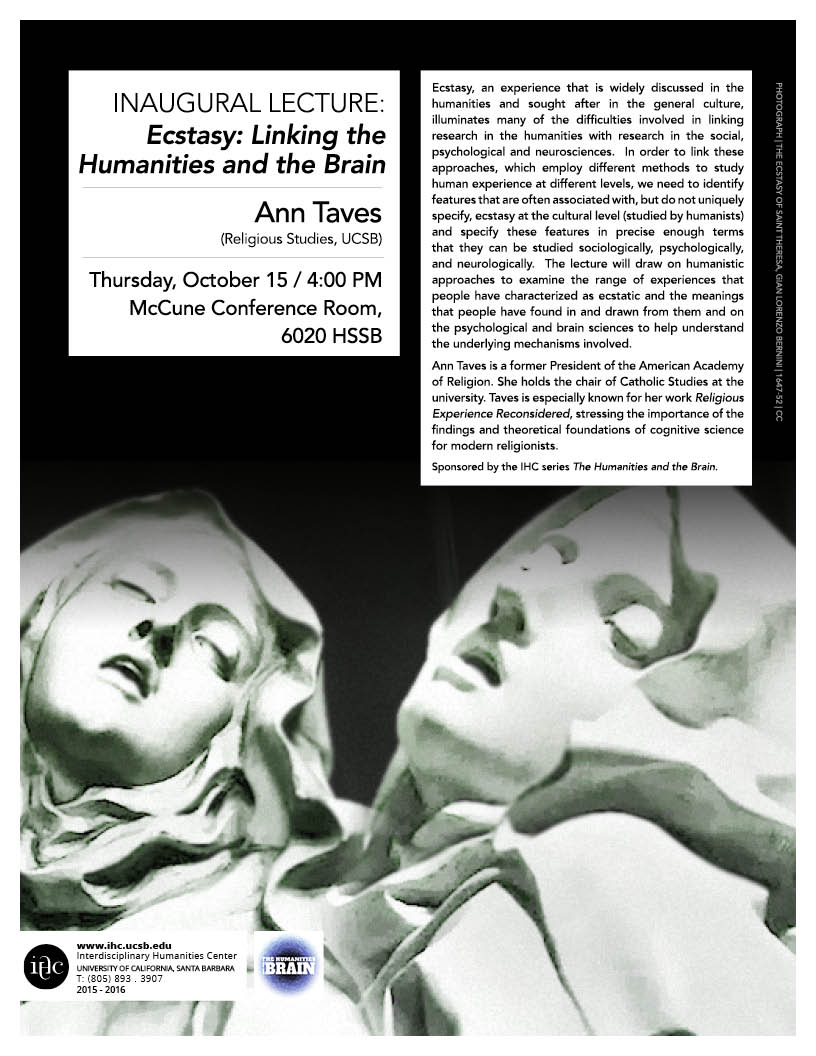 Ann Taves (Religious Studies, UCSB)
Thursday, October 15, 2015 / 4:00 PM
McCune Conference Room, 6020 HSSB
Ecstasy, an experience that is widely discussed in the humanities and sought after in the general culture, illuminates many of the difficulties involved in linking research in the humanities with research in the social, psychological and neurosciences.  In order to link these approaches, which employ different methods to study human experience at different levels, we need to identify features that are often associated with, but do not uniquely specify, ecstasy at the cultural level (studied by humanists) and specify these features in precise enough terms that they can be studied sociologically, psychologically, and neurologically.  The lecture will draw on humanistic approaches to examine the range of experiences that people have characterized as ecstatic and the meanings that people have found in and drawn from them and on the psychological and brain sciences to help understand the underlying mechanisms involved.
Ann Taves is a former President of the American Academy of Religion. She holds the chair of Catholic Studies at the university. Taves is especially known for her work Religious Experience Reconsidered, stressing the importance of the findings and theoretical foundations of cognitive science for modern religionists.
Empirically, she pursues research primarily within the contexts of American religious history, the history of Christianity in the modern era, and the history of the scientific study of religion, psychology, and related phenomena (e.g., psychical phenomena, magic, superstition).  Theoretically, her work builds on classical theorists, such as Durkheim and Weber, as well as evolutionary and developmental approaches to the study of human behavior.

Click here to listen to a recording of Ann Taves' talk for the 2016-16 IHC series: The Humanities and the Brain.
Sponsored by the IHC series The Humanities and the Brain.