25 Oct

Driving Richmond: From Pop-up Public Art Exhibition to University Class—and Transit Museum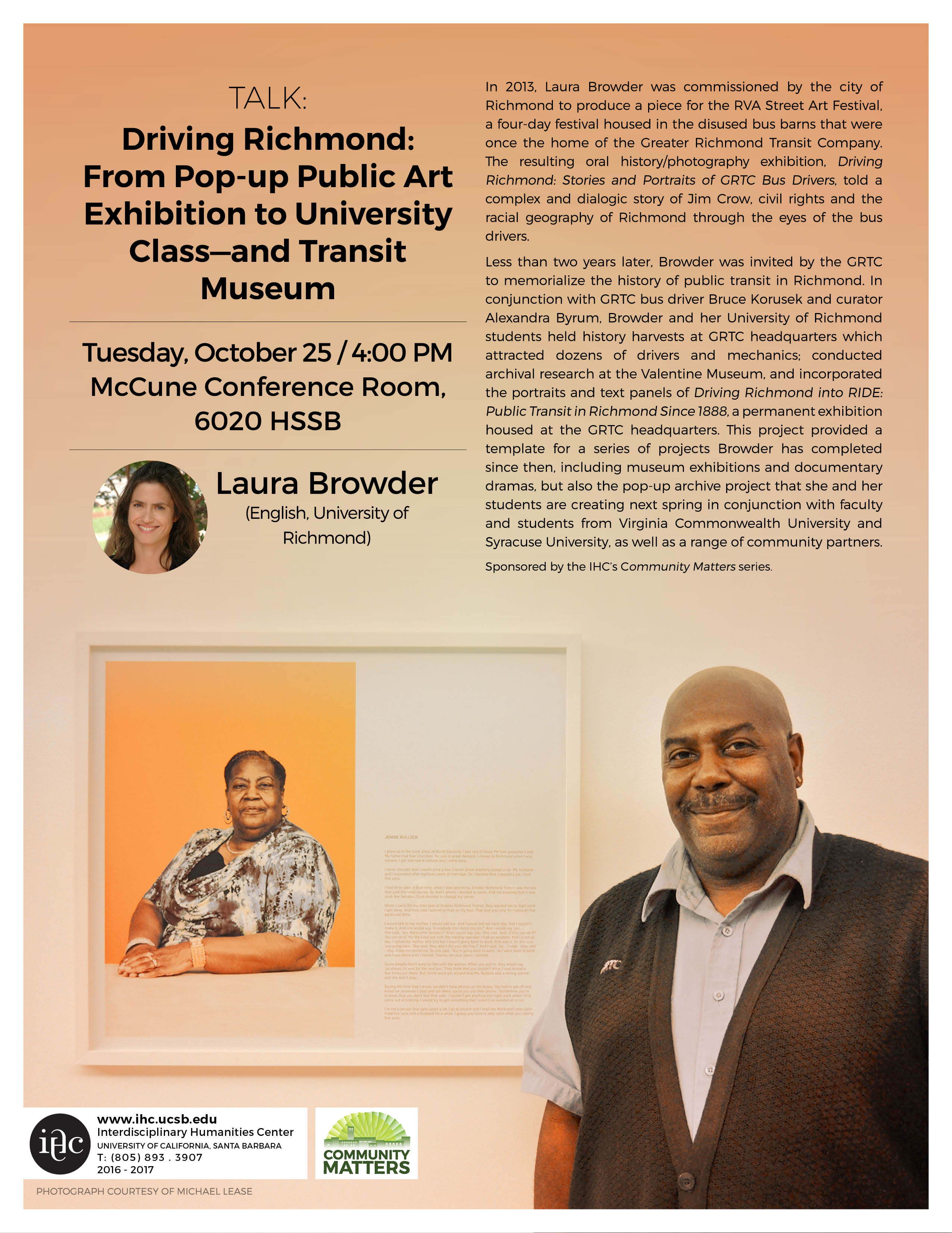 Laura Browder (English, University of Richmond)
Tuesday, October 25, 2016 / 4:00 PM
McCune Conference Room, 6020 HSSB
In 2013, Laura Browder was commissioned by the city of Richmond to produce a piece for the RVA Street Art Festival, a four-day festival housed in the disused bus barns that were once the home of the Greater Richmond Transit Company. The resulting oral history/photography exhibition, Driving Richmond: Stories and Portraits of GRTC Bus Drivers, told a complex and dialogic story of Jim Crow, civil rights and the racial geography of Richmond through the eyes of the bus drivers.
Less than two years later, Browder was invited by the GRTC to memorialize the history of public transit in Richmond. In conjunction with GRTC bus driver Bruce Korusek and curator Alexandra Byrum, Browder and her University of Richmond students held history harvests at GRTC headquarters which attracted dozens of drivers and mechanics; conducted archival research at the Valentine Museum, and incorporated the portraits and text panels of Driving Richmond into RIDE: Public Transit in Richmond Since 1888, a permanent exhibition housed at the GRTC headquarters. This project provided a template for a series of projects Browder has completed since then, including museum exhibitions and documentary dramas, but also the pop-up archive project that she and her students are creating next spring in conjunction with faculty and students from Virginia Commonwealth University and Syracuse University, as well as a range of community partners.


Click here to listen to a recording of Laura Browder's talk from the 2016-17 IHC series: Community Matters. 
Sponsored by the IHC series Community Matters.