20 Oct

The Digital Humanities Revolution: Supporting 21st Century Scholarship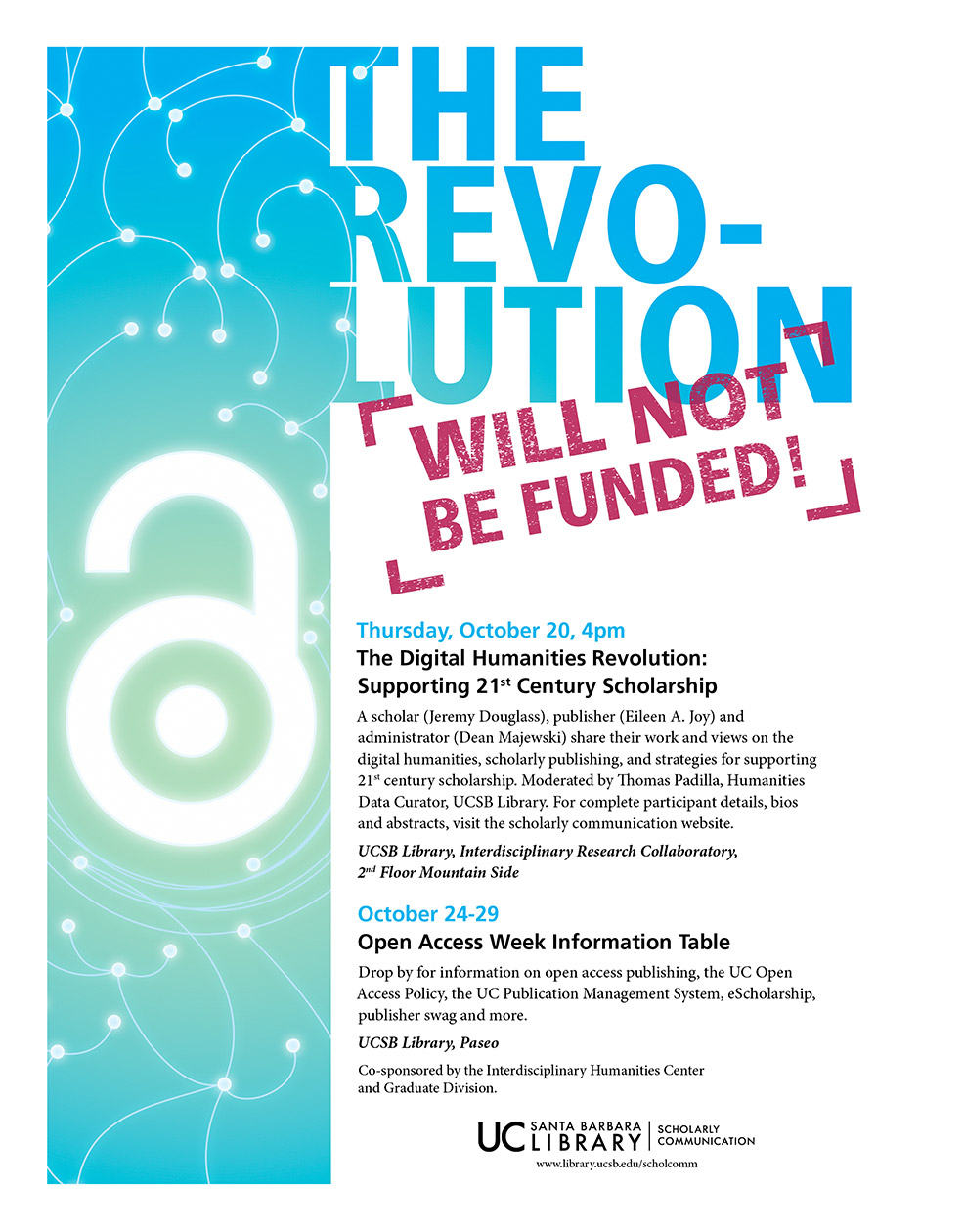 Jeremy Douglass (English, UCSB)
Eileen Joy (punctum books)
John Majewski (Dean, Humanities & Fine Arts)
October 20, 2016/4:00 PM
Interdisciplinary Research Collaboratory, Library Room 2322
A scholar (Jeremy Douglass), publisher (Eileen A. Joy) and administrator (Dean Majewski) share their work, and their views on DH, scholarly publishing, and strategies for ensuring the long term sustainability of 21st century publications that lie at the intersection scholarship, technology, and openness. Moderated by the Library's first Humanities Data Curator, Thomas Padilla.
Jeremy Douglass is Assistant Professor of English at UCSB, and co-author of Reading Project: A Collaborative Analysis of William Poundstone's Project for Tachistoscope (Bottomless Pit), a collaboration combining different interpretive methods of digital literature and poetics in order to think through how critical reading is changing.
Eileen A. Joy is Founding Director of punctum books, and a specialist in Old English literary studies. She is Co-Editor of postmedieval: a journal of medieval cultural studies. Her remarks will be based on a work in progress, "Publication as Care of the Self: The Ethics and Economics of Open Access," to be published in Constellations of Knowledge: The Past, Present and Future of Open Access and Scholarly Communication.
John Majewski is the Michael Douglas Dean of Humanities and Fine Arts and Professor in the Department of History, where he has taught since 1995. His areas of specialization include American economic, social, and legal history; Southern history, and the U.S. Civil War.
Thomas Padilla publishes, presents and teaches widely on humanities data, data curation, and data information literacy. He serves as an editor of DHCommons Journal. His most recently published article is "Humanities Data in the Library: Integrity, Form, and Access" (D-Lib Magazine, March/April 2016).
Sponsored by the UCSB Library, Graduate Division, and the IHC.