16 Feb

Desert Studies: An Art-Centered Initiative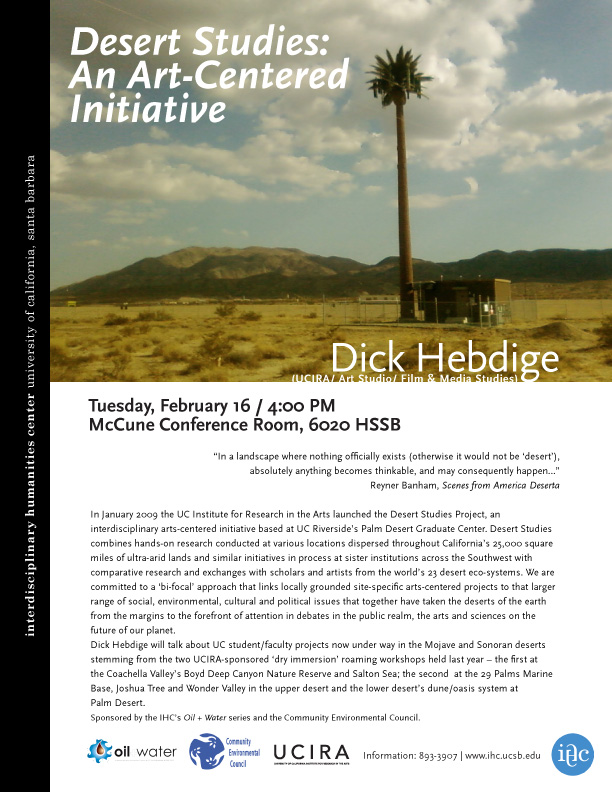 Dick Hebdige (Art Studio, UCSB)
Tuesday, February 16, 2010 / 4:00 PM
McCune Conference Room, 6020 HSSB
"In a landscape where nothing officially exists (otherwise it would not be 'desert'), absolutely anything becomes thinkable, and may consequently happen…"
Reyner Banham, Scenes from America Deserta
In January 2009 the UC Institute for Research in the Arts launched the Desert Studies Project, an interdisciplinary arts-centered initiative based project at UC Riverside's Palm Desert Graduate Center. Desert Studies combines hands-on research conducted at various locations dispersed throughout California's 25000 square miles of ultra-arid lands and similar initiatives in process at sister institutions across the South West with comparative research and exchanges with scholars and artists from the world's 23 desert eco-systems. We are committed to a 'bi-focal' approach that links locally grounded site-specific arts-centered projects to that larger range of social, environmental, cultural and political issues that together have taken the deserts of the earth from the margins to the forefront of attention in debates in the public realm, the arts and sciences on the future of our planet.
Dick Hebdige will talk about UC student/faculty projects now under way in the Mojave and Sonoran deserts stemming from the two UCIRA-sponsored 'dry immersion' roaming workshops held last year – the first at the Coachella Valley's Boyd Deep Canyon Nature Reserve and Salton Sea; the second  at the 29 Palms Marine Base, Joshua Tree and Wonder Valley in the upper desert and the lower desert's  dune/oasis system at Palm Desert.
Sponsored by the IHC's Oil + Water series and the Community Environmental Council.