06 Oct

Congress in Black and White: Race and Representation in Washington and at Home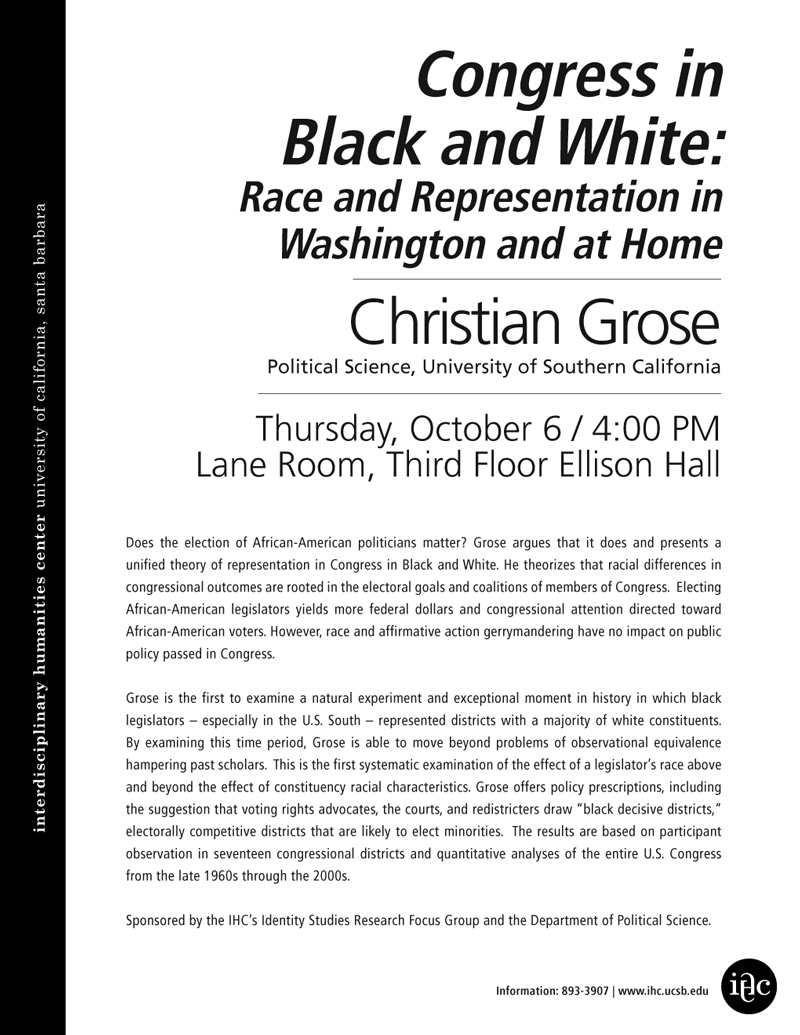 Christian Grose ( Political Science, USC)
Thursday, October 6 / 4:00 PM
Lane Room, 3rd floor Ellison Hall
Does the election of African-American politicians matter? Grose argues that it does and presents a unified theory of representation in Congress in Black and White. He theorizes that racial differences in congressional outcomes are rooted in the electoral goals and coalitions of members of Congress.  Electing African-American legislators yields more federal dollars and congressional attention directed toward African-American voters. However, race and affirmative action gerrymandering have no impact on public policy passed in Congress.
Grose is the first to examine a natural experiment and exceptional moment in history in which black legislators — especially in the U.S. South — represented districts with a majority of white constituents. By examining this time period, Grose is able to move beyond problems of observational equivalence hampering past scholars.  This is the first systematic examination of the effect of a legislator's race above and beyond the effect of constituency racial characteristics. Grose offers policy prescriptions, including the suggestion that voting rights advocates, the courts, and redistricters draw "black decisive districts," electorally competitive districts that are likely to elect minorities.  The results are based on participant observation in 17 congressional districts and quantitative analyses of the entire U.S. Congress from the late 1960s through the 2000s.
Sponsored by RFG Identity, Dept. of Political Science
More about the IHC's  Identity Studies RFG.