09 Feb

Communities for Empowerment: Antebellum African American Literary and Debating Societies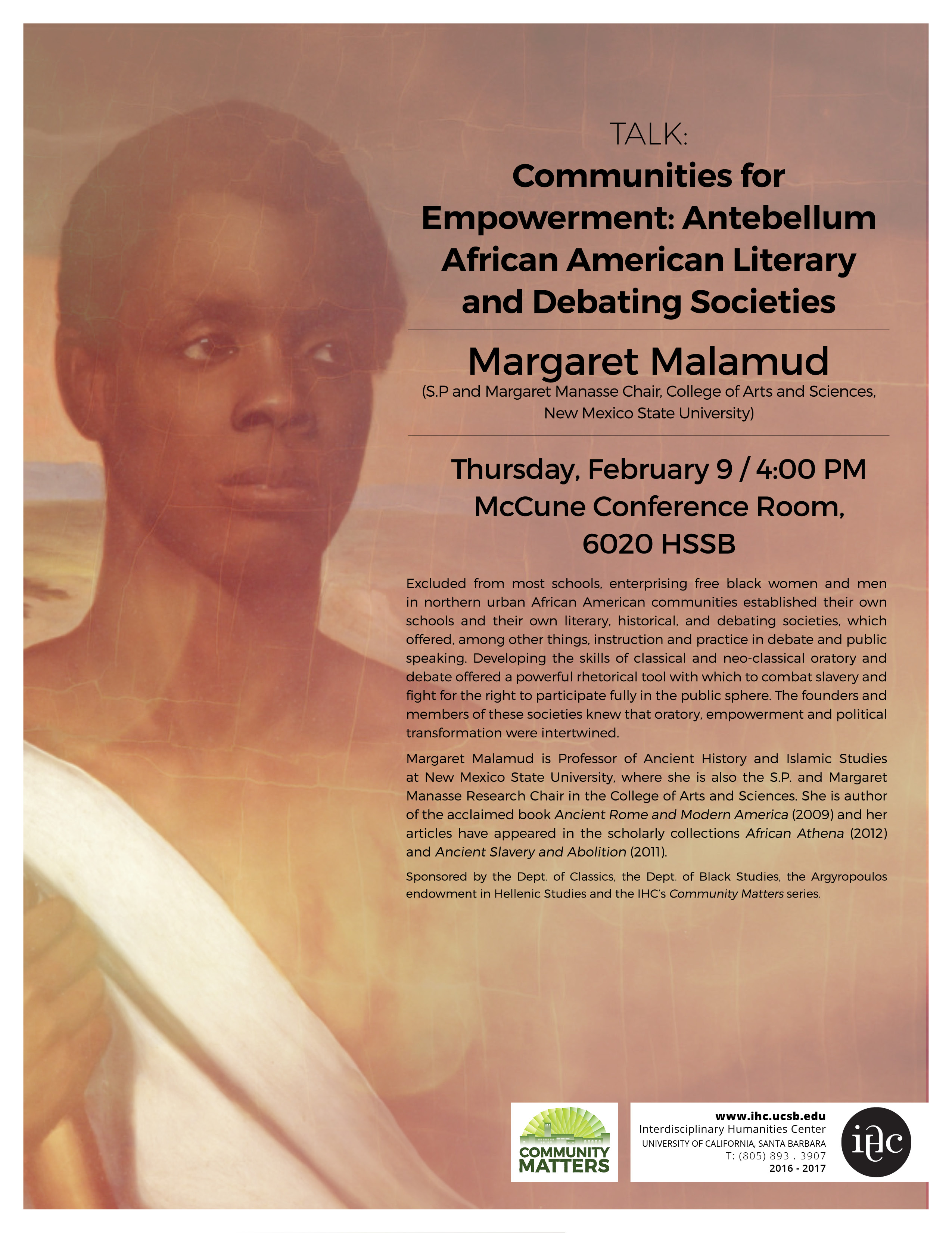 Margaret Malamud (S.P and Margaret Manasse Chair, College of Arts and Sciences,  New Mexico State University)
Thursday, February 9, 2017 / 4:00 PM
McCune Conference Room, 6020 HSSB
Excluded from most schools, enterprising free black women and men in northern urban African American communities established their own schools and their own literary, historical, and debating societies, which offered, among other things, instruction and practice in debate and public speaking. Developing the skills of classical and neo-classical oratory and debate offered a powerful rhetorical tool with which to combat slavery and fight for the right to participate fully in the public sphere. The founders and members of these societies knew that oratory, empowerment and political transformation were intertwined.
Margaret Malamud is Professor of Ancient History and Islamic Studies at New Mexico State University, where she is also the S.P. and Margaret Manasse Research Chair in the College of Arts and Sciences. She is author of the acclaimed book Ancient Rome and Modern America (2009) and her articles have appeared in the scholarly collections African Athena (2012) and Ancient Slavery and Abolition (2011).

Click here to listen to a recording of Margaret Malamud's talk for the 2016-17 IHC series: Community Matters.
Sponsored by the Dept. of Classics, the Dept. of Black Studies, the Argyropoulos endowment in Hellenic Studies and the IHC's Community Matters series.