12 Apr

Cloud Eye Control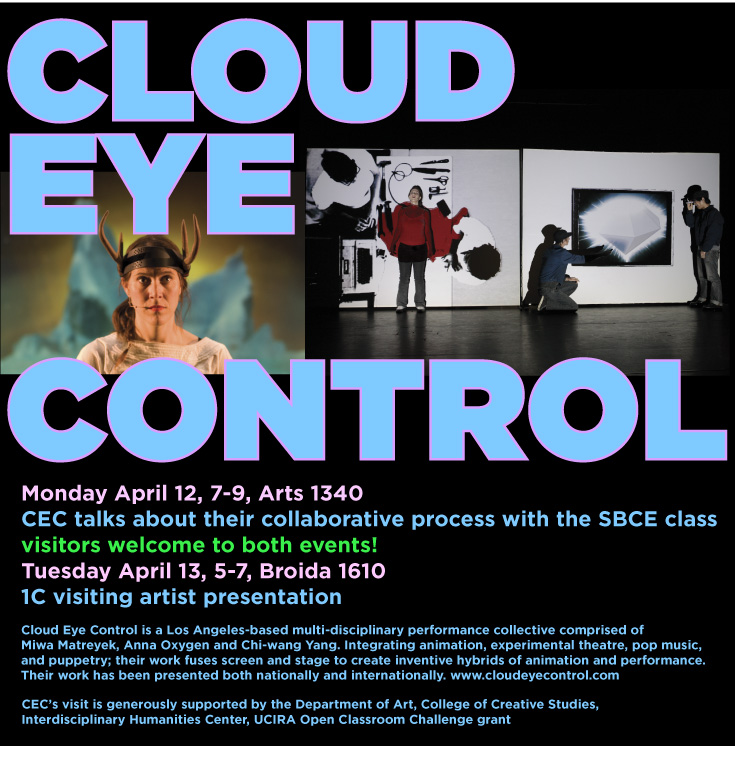 Monday, April 12 / 7:00 PM
Arts 1340
—AND—
Tuesday, April 13 / 7:00 PM
Broida 1610
Cloud Eye Control is a collaborative performance group from Los Angeles comprised of three members: Chi-wang Yang, Miwa Matreyek, and Anna Oxygen. They create original works that uniquely combine interactive media with live performance. Since their inception in 2004 they have created three original works that have been presented both nationally and internationally.
Whether through a re-imagining of Charles Lindbergh's trans-Atlantic flight, the discovery of powerful crystals underground, or one woman's interstellar search for a new home, a common theme in their stories is human adaptation in a technological world. To realize these stories, they project pre-rendered animation and live camera imagery onto various surfaces on the stage, and this imagery functions as scenery and virtual actor. Both high and low tech methods are used to allow the live actor to interact with the media. These methods range from custom-built interactive video software to the physical manipulation of video puppets.
CEC's visit is generously supported by the Department of Art, College of Creative Studies, Interdisciplinary Humanities Center, UCIRA Open Classroom Challenge grant.