01 Dec

Brave New Sanriku: Recovering from March 11, 2011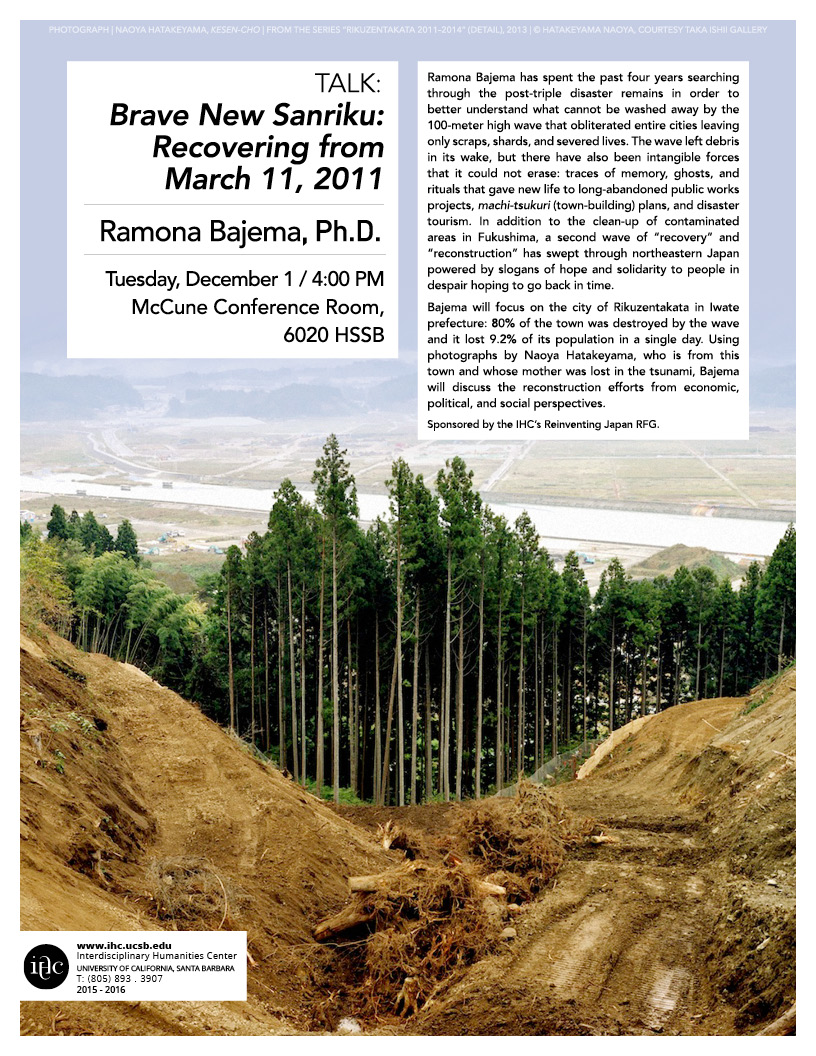 Ramona Bajema, Ph.D.
Tuesday, December 1, 2015 / 4:00 PM
McCune Conference Room, 6020 HSSB
Ramona Bajema has spent the past four years searching through the post-triple disaster remains in order to better understand what cannot be washed away by a 100-meter high wave that obliterated entire cities leaving only scraps, shards, and severed lives. The wave left debris in its wake, but there have also been intangible forces that it could not erase–traces of memory, ghosts, and rituals that gave new life to long-abandoned public works projects, machi-tsukuri (town-building) plans, and disaster tourism. In addition to the clean-up of contaminated areas in Fukushima, a second wave of "recovery" and "reconstruction" has swept through northeastern Japan powered by slogans of hope and solidarity to people in despair hoping to go back in time.
Bajema will focus on the city of Rikuzentakata in Iwate prefecture: 80% of the town was destroyed by the wave and it lost 9.2% of its population in a single day. Using photographs by Naoya Hatakeyama, who is from this town and whose mother was lost in the tsunami, Bajema will discuss the reconstruction efforts from economic, political, and social perspectives.
Sponsored by the IHC's Reinventing Japan RFG.