04 Feb

Brains, Brawn and Bravery: The Power of Professional Networks among late Nineteenth Century Women Physicians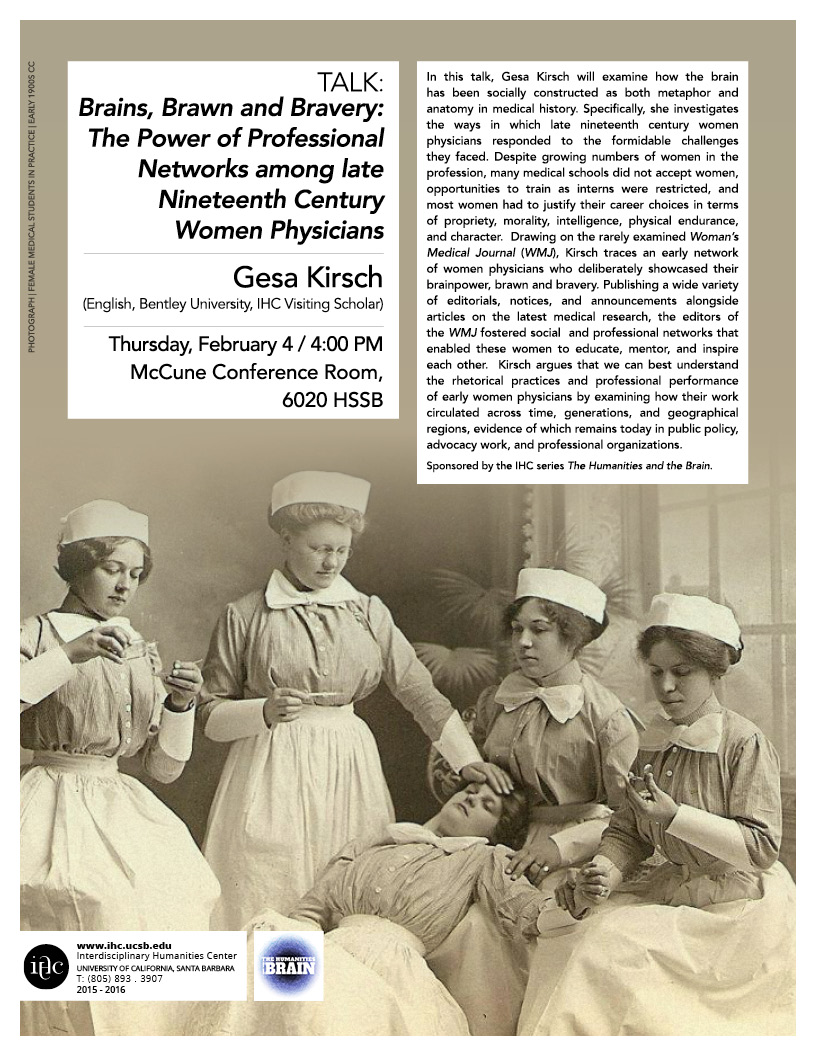 Gesa Kirsch (English, Bentley University, IHC Visiting Scholar)
Thursday, February 4, 2016 / 4:00 PM
McCune Conference Room, 6020 HSSB
In this talk, Gesa Kirsch will examine how the brain has been socially constructed as both metaphor and anatomy in medical history. Specifically, she investigates the ways in which late nineteenth century women physicians responded to the formidable challenges they faced. Despite growing numbers of women in the profession, many medical schools did not accept women, opportunities to train as interns were restricted, and most women had to justify their career choices in terms of propriety, morality, intelligence, physical endurance, and character. Against this backdrop, medical women created and maintained professional networks that enabled their intervention in arenas of society that were often restricted, such as public spaces and professional practice.
Drawing on the rarely examined Woman's Medical Journal (WMJ), Kirsch traces an early network of women physicians who deliberately showcased their brainpower, brawn and bravery. Publishing a wide variety of editorials, notices, and announcements alongside articles on the latest medical research, the editors of the WMJ fostered social and professional networks that enabled these women to educate, mentor, and inspire each other. She argues that the "miscellany" sections of the WMJ are particularly significant—but overlooked—because they reveal how information, resources, and knowledge circulated: they include opportunities for fellowships, medical training, and admission to medical schools; announcements of vacation leaves, office relocations, and obituaries; biographical sketches of successful women physicians; and listings of male physicians with a history of either supporting or denigrating medical women. She concludes by arguing that we can best understand the rhetorical practices and professional performance of early women physicians by examining how their work circulated across time, generations, and geographical regions, evidence of which remains today in public policy, advocacy work, and professional organizations.
Gesa E. Kirsch is professor of English at Bentley University and Director of the Jeanne and Dan Valente Center for Arts and Sciences. She was named the Jeannette K. Watson Distinguished Professor in the Humanities at Syracuse University for 2015. She won the 2014 Winifred Bryan Horner Outstanding Book Award for Feminist Rhetorical Practices: New Horizons for Rhetoric, Composition and Literacy Studies (co-authored with Jacqueline Jones Royster), and the 2013 Excellence in Scholarship Award from Bentley University. She has held visiting professorships at the University of Illinois, Urbana-Champaign, the University of New Hampshire, and the University of Orgeon. Kirsch co-founded and co-directed the Women's Leadership Institute (now the Center for Women and Business) at Bentley University. Her research and teaching interests include feminist rhetorical studies; ethics and qualitative research methodology; archival research and methodology; women's rhetorical education, past and present, feminist pedagogy, and environmental rhetoric.

Click here to listen to a recording of Gesa Kirsch's talk for the 2015-16 IHC series The Humanities and the Brain
Sponsored by the IHC series The Humanities and the Brain.