21 Jan

Blurring Boundaries: Interlacing Evolution, Epigenetics, Creativity and Diversity in Understanding the Human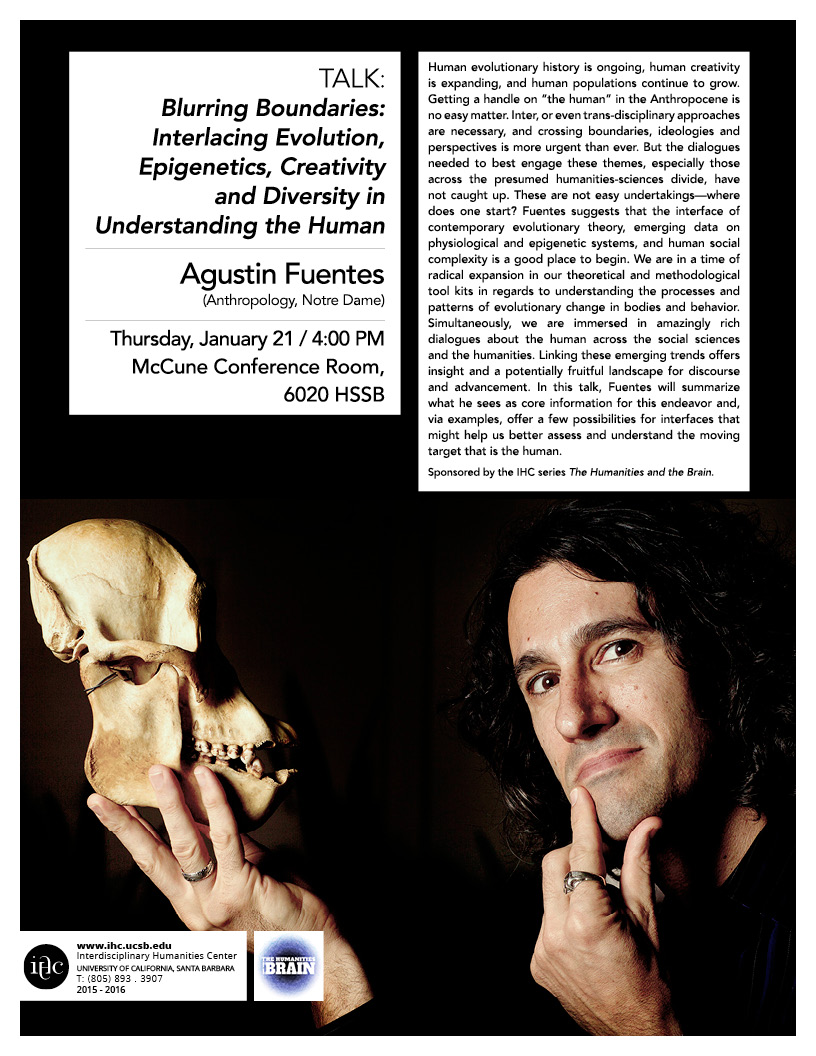 Agustin Fuentes (Anthropology, Notre Dame)
Thursday, January 21, 2106 / 4:00 PM
McCune Conference Room, 6020 HSSB
Human evolutionary history is ongoing, human creativity is expanding, and human populations continue to grow. Getting a handle on "the human" in the Anthropocene is no easy matter. Inter, or even trans-disciplinary approaches are necessary, and crossing boundaries, ideologies and perspectives is more urgent than ever. But the dialogues needed to best engage these themes, especially those across the presumed humanities-sciences divide, have not caught up. These are not easy undertakings—where does one start? Fuentes suggests that the interface of contemporary evolutionary theory, emerging data on physiological and epigenetic systems, and human social complexity is a good place to begin. We are in a time of radical expansion in our theoretical and methodological tool kits in regards to understanding the processes and patterns of evolutionary change in bodies and behavior. Simultaneously, we are immersed in amazingly rich dialogues about the human across the social sciences and the humanities. Linking these emerging trends offers insight and a potentially fruitful landscape for discourse and advancement. In this talk, Fuentes will summarize what he sees as core information for this endeavor and, via examples, offer a few possibilities for interfaces that might help us better assess and understand the moving target that is the human.
Agustín Fuentes' current foci include cooperation and bonding in human evolution, ethnoprimatology and multispecies anthropology, evolutionary theory, and public perceptions of, and interdisciplinary approaches to, human nature(s).  Fuentes' recent books include Evolution of Human Behavior (Oxford University Press), Centralizing Fieldwork: Critical Perspectives from Primatology, Biological and Social Anthropology (Co-edited, Berghahn Press), Biological Anthropology: Concepts and Connections (McGraw-Hill), Monkeys on the Edge: Ecology and Management of Long-Tailed Macaques and their Interface with Humans (co-edited, Oxford University Press), and the forthcoming Race, Monogamy, and Other Lies They Told You: Busting Myths about Human Nature (UC Press). Key recent articles include "Naturecultural Encounters in Bali: Monkeys, Temples, Tourists, and Ethnoprimatology" in Cultural Anthropology and "The New Biological Anthropology: Bringing Washburn's New Physical Anthropology into 2010 and Beyond" in The Yearbook of Physical Anthropology. Current research projects include the ethnoprimatology of Singapore, interdisciplinary approaches to understanding human nature(s), and an evaluation of the roles of cooperation, community, and niche construction in human evolution.
Sponsored by the IHC series The Humanities and the Brain.

Click here to listen to a recording of Agustin Fuentes' talk for the 2015-16 IHC series The Humanities and the Brain