18 Feb

Blue, Black, and White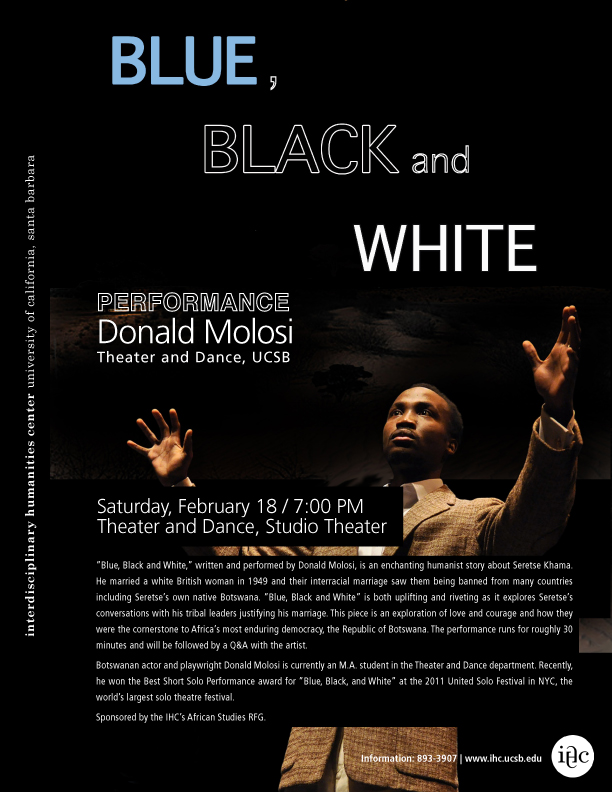 Donald Molosi  (Theater and Dance, UCSB)
Saturday, February 18 / 7:00 PM
Theater and Dance, Studio Theater

"Blue, Black and White," written and performed by Donald Molosi, is an enchanting humanist story about Seretse Khama. He married a white British woman in 1949 and their interracial marriage saw them being banned from many countries including Seretse's own native Botswana. Blue, Black and White is both uplifting and riveting as it explores Seretse's conversations with his tribal leaders justifying his marriage. This piece is an exploration of love and courage and how they were the cornerstone to Africa's most enduring democracy, the Republic of Botswana. The performance runs for roughly 30 minutes and will be followed by a Q&A with the artist.
Botswanan actor and playwright Donald Molosi is currently an M.A. student in the Theater and Dance department. Recently, he won the Best Short Solo Performance award for "Blue, Black, and White" at the 2011 United Solo Festival in NYC, the world's largest solo theatre festival.
Sponsored by the IHC's African Studies RFG.