16 May

Black Holes of Memory; Constructions of Identity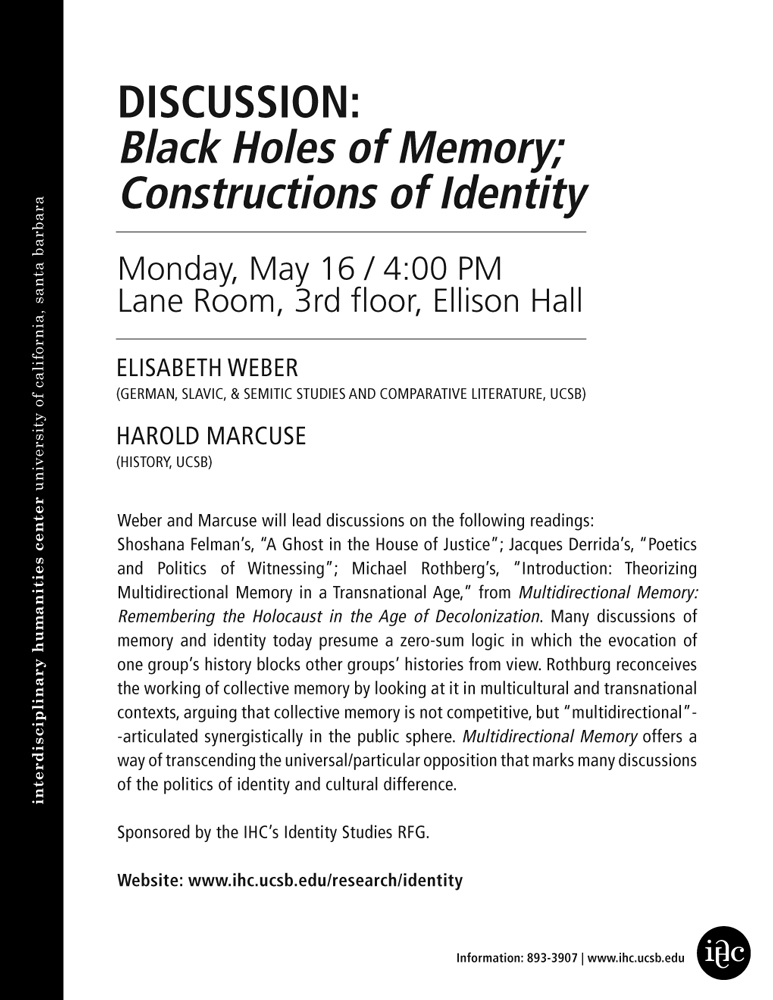 Elisabeth Weber (German, Slavic, & Semitic Studies and Comparative Literature, UCSB)
Harold Marcuse (History, UCSB)
Monday, May 16 / 4:00 PM
Lane Room, 3rd floor, Ellison Hall
Weber and Marcuse will lead discussions on the following readings:
Shoshana Felman's, "A Ghost in the House of Justice"; Jacques Derrida's, "Poetics and Politics of Witnessing"; Michael Rothberg's, "Introduction: Theorizing Multidirectional Memory in a Transnational Age," from Multidirectional Memory: Remembering the Holocaust in the Age of Decolonization. Many discussions of memory and identity today presume a zero-sum logic in which the evocation of one group's history blocks other groups' histories from view. Rothburg reconceives the working of collective memory by looking at it in multicultural and transnational contexts, arguing that collective memory is not competitive, but "multidirectional"–articulated synergistically in the public sphere. Multidirectional Memory offers a way of transcending the universal/particular opposition that marks many discussions of the politics of identity and cultural difference.
Sponsored by the IHC's Identity Studies RFG.
Website: https://www.ihc.ucsb.edu/research/identity.html