16 Apr

Billy and Teddy: Imagining Animals in the Anthropocene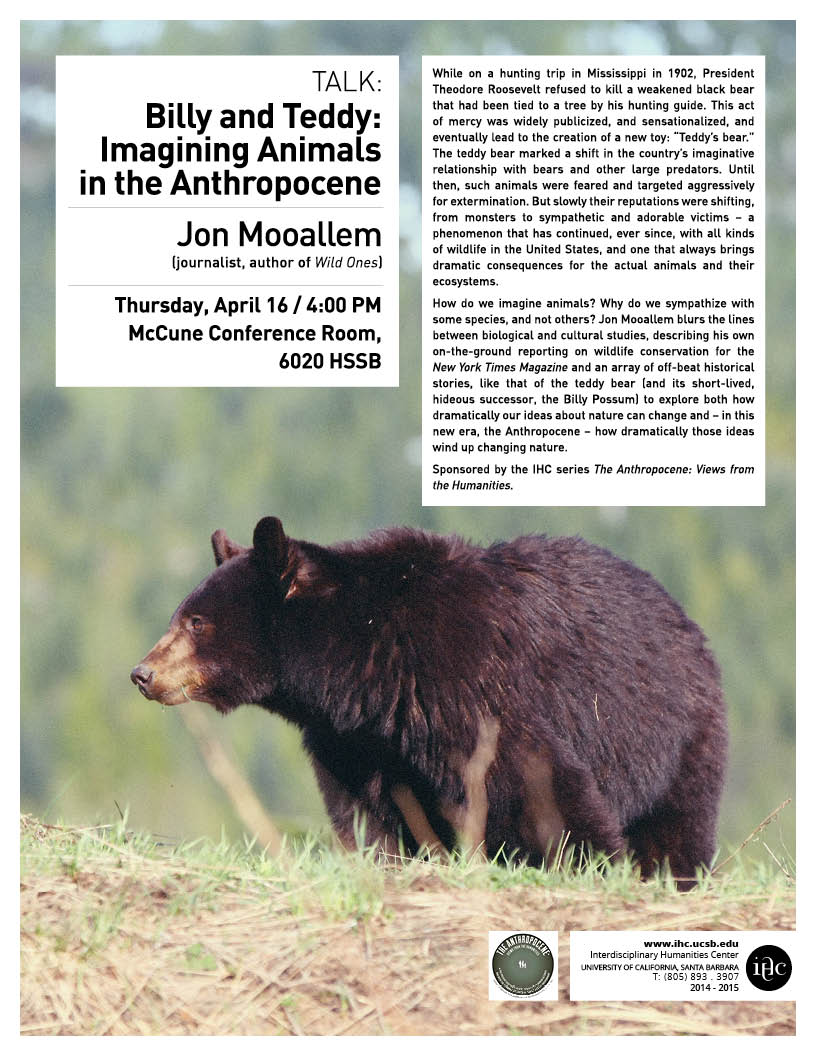 Jon Mooallem (journalist, author of Wild Ones)
Thursday, April 16, 2015 / 4:00 PM
McCune Conference Room, HSSB 6020
While on a hunting trip in Mississippi in 1902, President Theodore Roosevelt refused to kill a weakened black bear that had been tied to a tree by his hunting guide. This act of mercy was widely publicized, and sensationalized, and eventually lead to the creation of a new toy: "Teddy's bear." The teddy bear marked a shift in the country's imaginative relationship with bears and other large predators. Until then, such animals were feared and targeted aggressively for extermination. But slowly their reputations were shifting, from monsters to sympathetic and adorable victims – a phenomenon that has continued, ever since, with all kinds of wildlife in the United States, and one that always brings dramatic consequences for the actual animals and their ecosystems.
How do we imagine animals? Why do we sympathize with some species, and not others? Jon Mooallem blurs the lines between biological and cultural studies, describing his own on-the-ground reporting on wildlife conservation for the New York Times Magazine and an array of off-beat historical stories, like that of the teddy bear (and its short-lived, hideous successor, the Billy Possum) to explore both how dramatically our ideas about nature can change and – in this new era, the Anthropocene – how dramatically those ideas wind up changing nature.
Jon Mooallem has been a contributing writer to The New York Times Magazine since 2006 and is a writer at large for Pop-Up Magazine, the "live magazine" in San Francisco. He's also contributed to "This American Life", The New Yorker, Harper's, Wired, and many other magazines. He is the author of Wild Ones and American Hippotamus. He and his family live in San Francisco.
Sponsored by the IHC series The Anthropocene: Views from the Humanities.
Click here to listen to a recording of this talk from the IHC series The Anthropocene: Views from the Humanities.