19 Oct

"Bantu in the Bathroom": Sex and Race in the New Millenium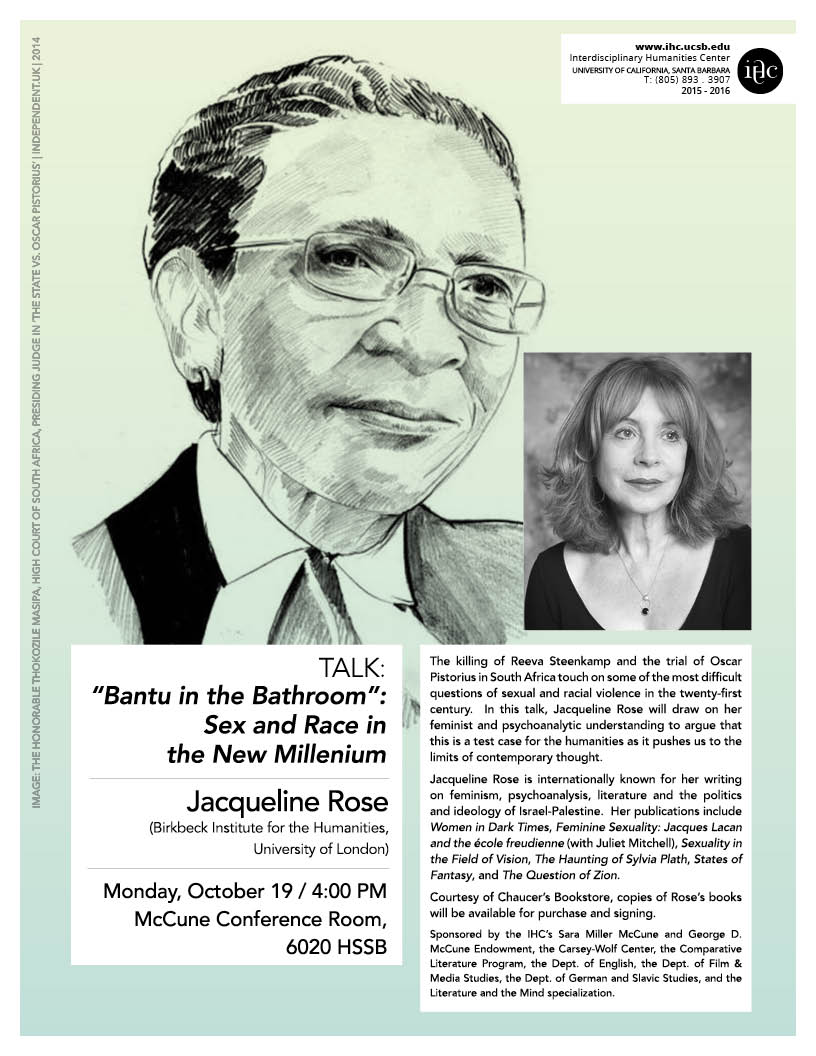 Jacqueline Rose (Birkbeck Institute for the Humanities, University of London)
Monday, October 19, 2015 / 4:00 PM
McCune Conference Room, 6020 HSSB
The killing of Reeva Steenkamp and the trial of Oscar Pistorius in South Africa touch on some of the most difficult questions of sexual and racial violence in the twenty-first century.  In this talk, Jacqueline Rose will draw on her feminist and psychoanalytic understanding to argue that this is a test case for the humanities as it pushes us to the limits of contemporary thought.
Jacqueline Rose is internationally known for her writing on feminism, psychoanalysis, literature and the politics and ideology of Israel-Palestine.  Her publications include Women in Dark Times, Feminine Sexuality: Jacques Lacan and the école freudienne (with Juliet Mitchell), Sexuality in the Field of Vision, The Haunting of Sylvia Plath, States of Fantasy, and The Question of Zion.  She is a regular writer for The London Review of Books, a co-founder of Independent Jewish Voices in the UK and a Fellow of the British Academy.
Courtesy of Chaucer's Bookstore, copies of Rose's books will be available for purchase and signing.
Professor Rose will also be introducing and discussing the film Niagara on Tuesday, October 20 at the Pollock Theater.  For details and tickets, visit this page.
Sponsored by the IHC's Sara Miller McCune and George D. McCune Endowment, the Carsey-Wolf Center, the Comparative Literature Program, the Dept. of English, the Dept. of Film & Media Studies, the Dept. of German and Slavic Studies, and the Literature and the Mind specialization.