19 Apr

Acting Operatically: Voice, Body and the Actress in Beckett's Happy Days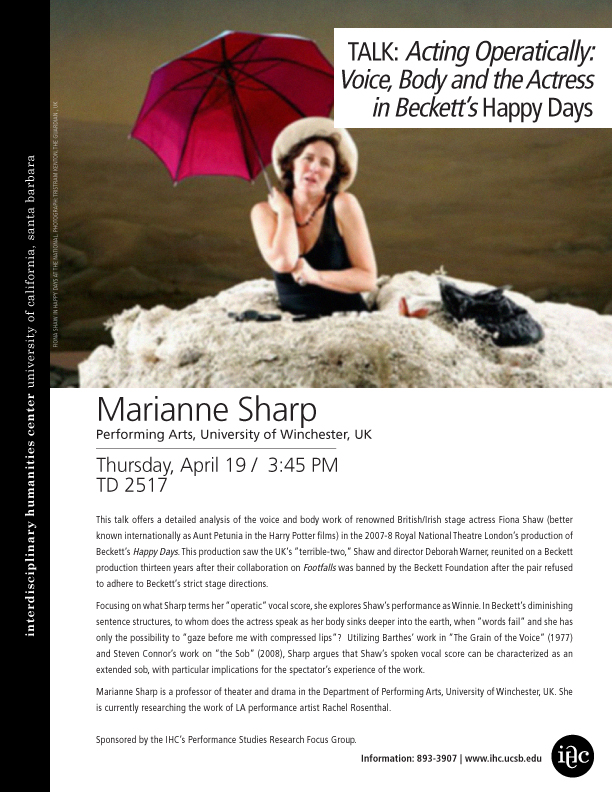 Marianne Sharp (Performing Arts, University of Winchester)
Thursday, April 19 /  3:45 PM
TD 2517

This talk offers a detailed analysis of the voice and body work of renowned British/Irish stage actress Fiona Shaw (better known internationally as Aunt Petunia in the Harry Potter films) in the 2007-8 Royal National Theatre London's production of Beckett's Happy Days. This production saw the UK's "terrible-two," Shaw and director Deborah Warner, reunited on a Beckett production thirteen years after their collaboration on Footfalls was banned by the Beckett Foundation after the pair refused to adhere to Beckett's strict stage directions.
Focusing on what Sharp terms her "operatic" vocal score, she explores Shaw's performance as Winnie. In Beckett's diminishing sentence structures, to whom does the actress speak as her body sinks deeper into the earth, when "words fail" and she has only the possibility to "gaze before me with compressed lips"?  Utilizing Barthes' work in "The Grain of the Voice" (1977) and Steven Connor's work on "the Sob" (2008), Sharp argues that Shaw's spoken vocal score can be characterized as an extended sob, with particular implications for the spectator's experience of the work.
Marianne Sharp is a professor of theater and drama in the Department of Performing Arts, University of Winchester, UK. She is currently researching the work of LA performance artist Rachel Rosenthal.
Sponsored by the IHC's Performance Studies Research Focus Group.