20 May

A Force for Good and for God – Judaism in the 21st Century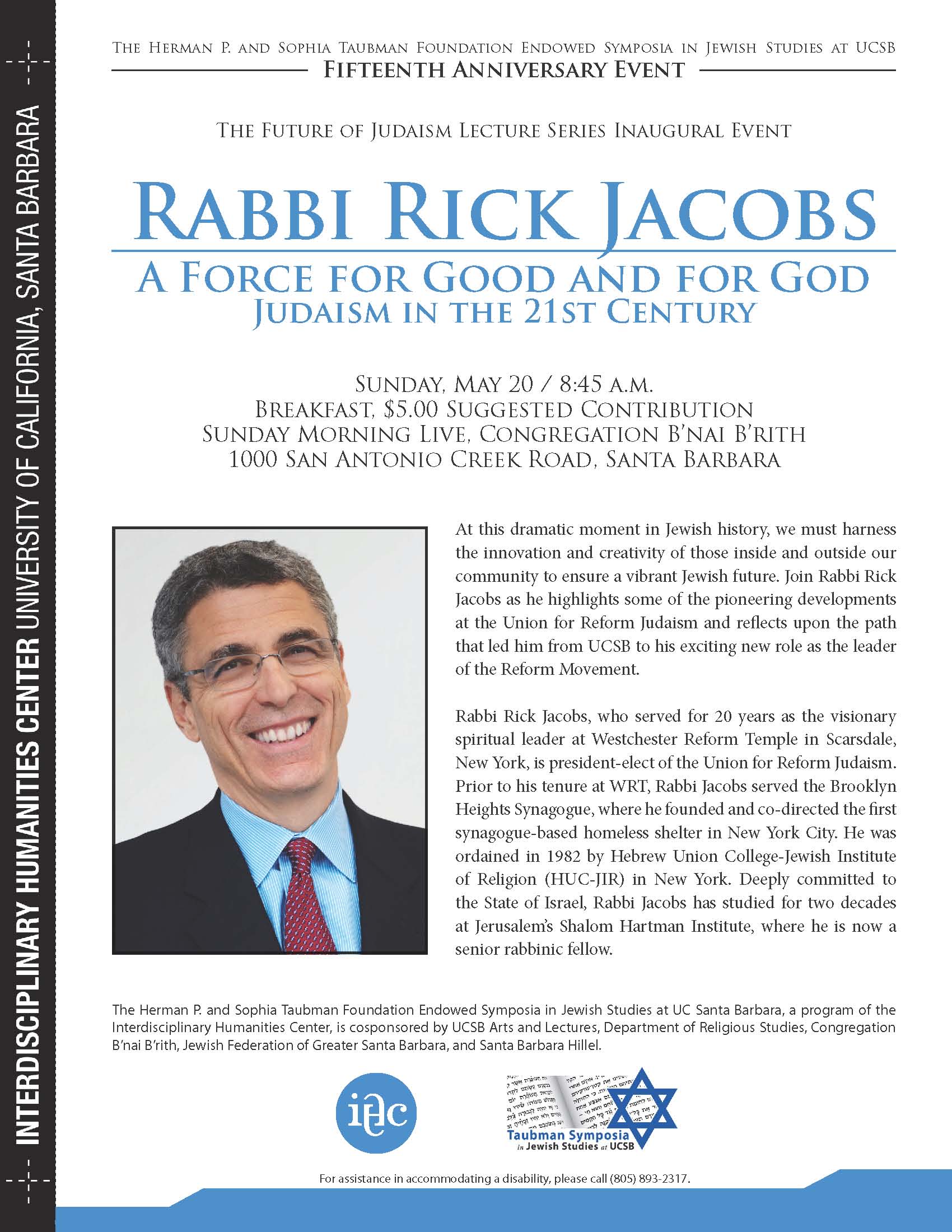 Rabbi Rick Jacobs  (President-Elect, Union for Reform Judaism)
Sunday, May 20 / 8:45 AM
Breakfast $5.00 Suggested Contribution
Congregation B'nai B'rith, 1000 San Antonio Creek Road
The Future of Judaism Lecture Series Inaugural Event
At this dramatic moment of Jewish history, we must harness the innovation and creativity of those inside and outside our community to ensure a vibrant Jewish future.  Join Rabbi Rick Jacobs as he highlights some of the pioneering developments at the Union for Reform Judaism and reflects upon the path that led him from UCSB to his exciting new role as the leader of the Reform Movement.
Rabbi Rick Jacobs, who served for 20 years as the visionary spiritual leader at Westchester Reform Temple in Scarsdale, New York, is president-elect of the Union for Reform Judaism. Prior to his tenure at WRT, Rabbi Jacobs served the Brooklyn Heights Synagogue, where he founded and co-directed the first synagogue-based homeless shelter in New York City. He was ordained in 1982 by Hebrew Union College-Jewish Institute of Religion (HUC-JIR) in New York, where he received numerous excellence awards. In 2007, he received an honorary Doctorate of Divinity, also from HUC-JIR. Deeply committed to the State of Israel, Rabbi Jacobs has studied for two decades at Jerusalem's Shalom Hartman Institute, where he is now a senior rabbinic fellow.
The Herman P. and Sophia Taubman Foundation Endowed Symposia in Jewish Studies at UC Santa Barbara, a program of the Interdisciplinary Humanities Center, is cosponsored by UCSB Arts and Lectures, Department of Religious Studies, Congregation B'nai B'rith, Jewish Federation of Greater Santa Barbara, and Santa Barbara Hillel.