08 Oct

4Humanities@UCSB Meeting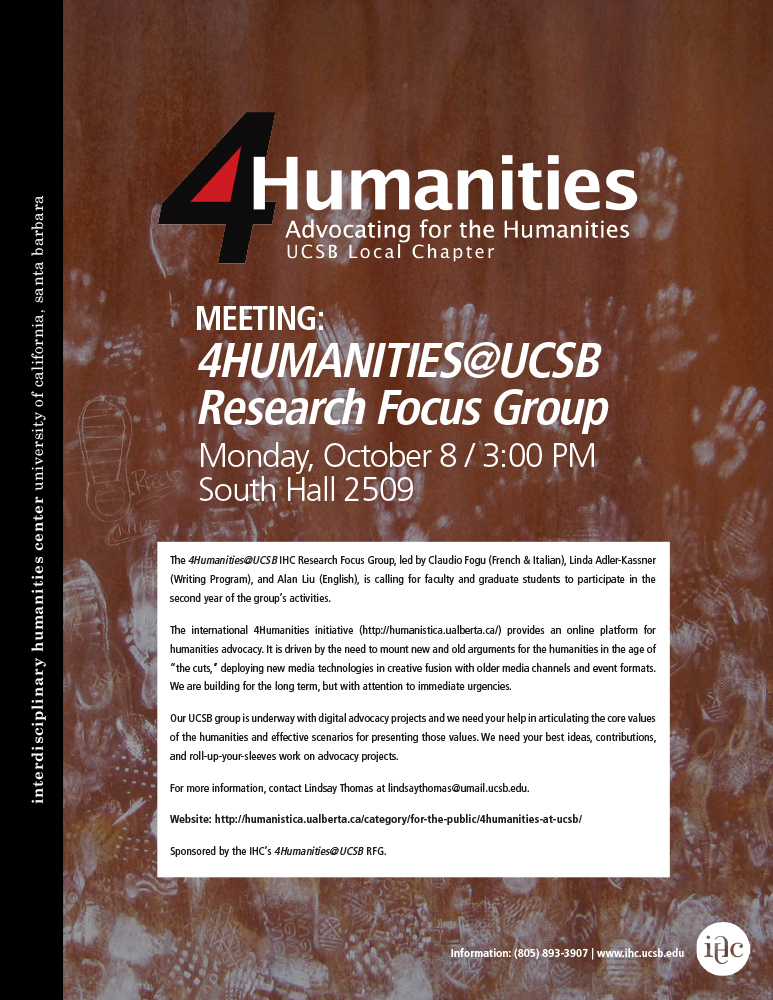 Monday, October 8 / 3:00 PM
South Hall 2509
The 4Humanities@UCSB IHC Research Focus Group, led by Claudio Fogu (French & Italian), Linda Adler-Kassner (Writing Program), and Alan Liu (English), is calling for faculty and graduate students to participate in the second year of the group's activities.
The international 4Humanities initiative (http://humanistica.ualberta.ca/) provides an online platform for humanities advocacy. It is driven by the need to mount new and old arguments for the humanities in the age of "the cuts," deploying new media technologies in creative fusion with older media channels and event formats. We are building for the long term, but with attention to immediate urgencies.
Our UCSB group is underway with digital advocacy projects and we need your help in articulating the core values of the humanities and effective scenarios for presenting those values. We need your best ideas, contributions, and roll-up-your-sleeves work on advocacy projects.
For more information, contact Lindsay Thomas at lindsaythomas@umail.ucsb.edu.
Website: http://humanistica.ualberta.ca/category/for-the-public/4humanities-at-ucsb/